New version equipped with a digital display
The digital display which allows to monitor the operating frequency, Ambient T ° and Relative humidity (RH)
NON-INVASIVE ELECTROPHYSICAL DEHUMIDIFICATION OF THE SURFACE
What is protect DRY?
It is an exclusive electrophysical dehumidification system with "multifrequency pulse" technology. A small device but enormously and definitively effective. Protect Dry resolves the problem of capillary rising damp 100% on all types of masonry, allowing permanent drying. A wall recovered in this way can therefore be restored, forgetting forever about dampness, damage to the plaster, salt blooming and mould spots.
With an essential design and very contained dimensions, Protect Dry can even be positioned behind the furniture. Installation is carried out by fastening four simple anchor screws and with connection to a common electrical socket.
100% effective on all types of masonry
In order to definitively counteract the rising damp, Protect Dry acts with many frequencies instead of a single frequency Protect Dry generates an electromagnetic field inside the masonry that interacts with the water molecules, preventing them from rising. Unlike other systems that use a single frequency, Protect Dry instead generates a stream of pulses at different frequencies that achieves excellent results on all types of masonry structures, no matter what the geometry of the capillary pores and the composition of the masonry may be. Protect Dry is able to dehumidify surfaces that range from just a few square metres all the way up to 800m2. It is therefore able to respond to various building structures with great versatility.
How Protect Dry acts on rising damp
Before installing Protect DRY
Due to their dipolar nature, water molecules are attracted by electrical forces inside microscopic channels called capillaries. Each molecule in the soil can thereby migrate upward through the capillaries into building foundations and walls.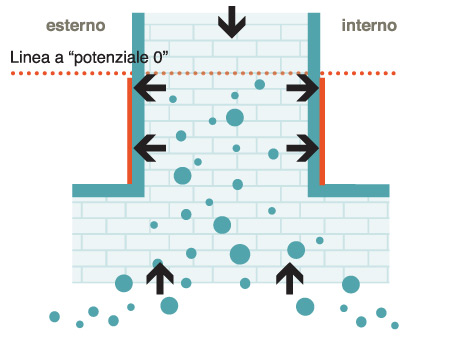 After installing Protect DRY
As it travels upward, the water dissolves and transports salts found along the way which are one of the primary causes of plaster deterioration. The ascent stops along the "0 potential" line where capillary adhesion and the force of gravity balance out.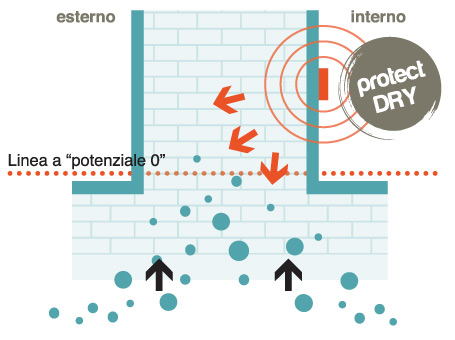 100% harmless and effective
Anyone who purchases Protect Dry can do it with complete peace of mind because they are reassured by the numerous applications that demonstrate the validity of the solution in various settings, including highly prestigious historic and architectural settings. It is also completely harmless for living beings. The magnetic induction generated by Protect Dry is lower than that of a light bulb.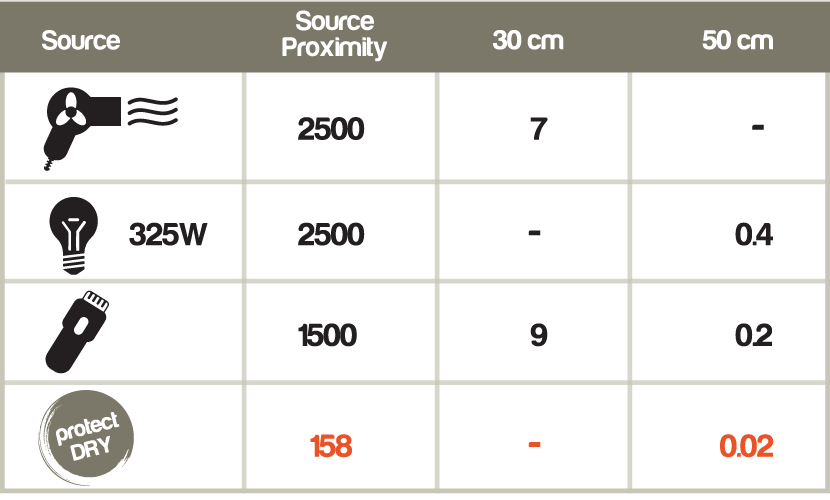 Examples of operation
Installation and operation of Protect Dry over time is guaranteed by a team of experts capable of setting up the most modern technologies in the field dedicated to surface diagnostics and analysis. Thanks to the IBIX MOBILE LAB instrument, the technicians will be able to analyse the masonry and the relative degradation phenomena. The analysis methods used comply with Italian legislation (UNI-Cultural Property) and European legislation (EN - Conservation of Cultural Property -).

Protect DRY range of action

Contact us!
A team of dedicated professionals will answer to all your questions.